Commentary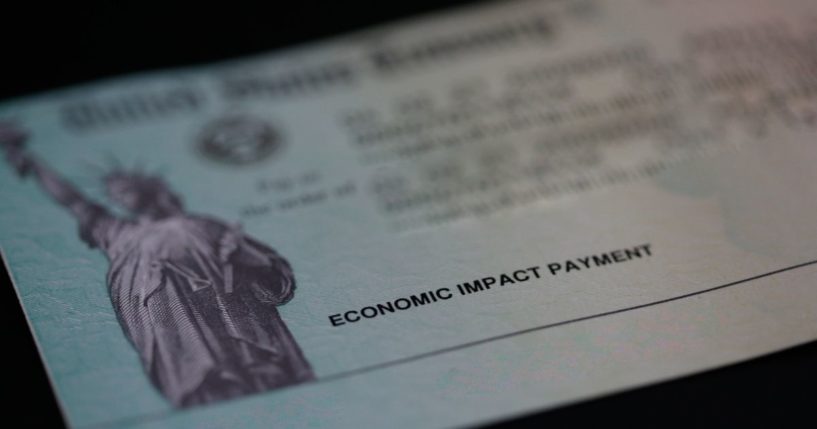 An economic impact payment, also referred to as a stimulus check, issued by the United States Treasury with address and routing numbers removed is displayed on a black background on May 15, 2021, in North Las Vegas, Nevada. (Gabe Ginsberg / Getty Images)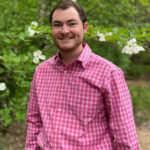 By Grant Atkinson  September 23, 2021 at 4:43pm
Since the beginning of the coronavirus pandemic, the government's solution has been to try to control Americans' personal lives. This has included not only masks and vaccines but also the swaths of money handed to millions of adults in the U.S.
The federal government has paid a total of $3,200 to each eligible American through three rounds of payments since March 2020, CBS News reported Thursday. The latest of those payments was the whopping $1,400 per person under President Joe Biden's American Rescue Plan in March 2021.
It's now September, and the economy is ready to return to normal. But it has been hindered in part by Biden's relief package, which included enhanced unemployment benefits that didn't expire until Sept. 6.
In a separate article from earlier this month, CBS News quoted a woman named Pamela Mohar of Ann Arbor, Michigan, who said she will be helpless once her unemployment checks stop flowing in. She said she prepaid her bills through October, but after that, she has no idea what to do.
"Once that last check comes, that will be devastating not to know where the next check will come from," she said.
Of course, there is a perfectly easy answer for Mohar and the many other Americans in her situation. They could get a job and earn the money they need.
According to the latest available data from the U.S. Bureau of Labor Statistics, there were 10.9 million job openings on July 30, 2021.
Meanwhile, the Washington Examiner reported Thursday that last week's new unemployment claims rose by 16,000 from the previous week. The total number of new claims was 351,000 last week alone.
So how can these two things be true at once? How can Americans feel they are unable to find employment as nearly 11 million jobs wait to be filled?
Do you believe Democrats want people to rely on the government for basic needs?
The only plausible answer is that progressive Democrats have created a subsection of Americans who believe their only hope is for the government to hand them money.
You don't have to look far to see the evidence that Biden's American Rescue Plan has hindered the economy's resurgence. Countless businesses around the country have been ready to return to normal business for months, but they cannot find enough employees to do so.
In my hometown of Greensboro, North Carolina, one of the most popular sports bars is called Rody's Tavern. It is almost always packed to the brim with customers eating burgers and watching the night's biggest sporting events.
Yet two months ago, Rody's Tavern announced it would temporarily be closing its doors every Monday and Tuesday. This was because, despite booming business, it had been unable to find enough employees.
"In order to serve you all better during these difficult times with staffing our business, we will be TEMPORARILY consolidating our staff and will be closing on MONDAYS & TUESDAYS," the restaurant wrote on Facebook on July 17.
Over the last two months, Rody's Tavern has posted multiple job opportunities on its Facebook page.
Despite that, Rody's Tavern said it was still closed on Mondays and Tuesdays as of Sept. 19 due to staffing issues.
This issue is not an isolated one. Many businesses around the country are unable to fully serve their customers because they lack the necessary employees.
In Mohar's hometown of Ann Arbor, Michigan, restaurants are facing grave staffing shortages. In August, Michigan Live reported the annual Taste of Ann Arbor food festival had been canceled because a number of local restaurants could not even staff their stores, let alone send employees to a food festival.
While it seems like an oxymoron that Mohar claims to be helpless as businesses in her very city look to hire people just like her, there is an easy explanation.
When you pay people to sit at home and do nothing, they will most likely choose to do that instead of going out and finding a job. Leftists in the Democratic Party did exactly that during the pandemic, and people took advantage of their offer.
"During the week ending September 4, 47 states reported 4,896,125 continued weekly claims for Pandemic Unemployment Assistance benefits and 47 states reported 3,644,555 continued claims for Pandemic Emergency Unemployment Compensation benefits," the Department of Labor reported Thursday.
In a time when the economy is ready to burst open and so many companies are looking for employees, nearly 5,000,000 Americans were still asking for pandemic-related benefits until the last possible second.
Furthermore, the DOL said the eight states with the highest insured unemployment rates were California (3.1 percent), New Jersey (3.0), Illinois (2.8), Nevada (2.8), New York (2.8), Rhode Island (2.7), Hawaii (2.5) and Connecticut (2.2).
Every one of those states has one thing in common — a Democratic governor. The District of Columbia, which has one of the most radical leftist mayors in the country, had an unemployment rate of 4.2 percent.
Even though the unemployment benefits expired Sept. 6, their effects are still being felt greatly. Many Americans are still living off the money they were handed for the last six months, and they have been conditioned to believe the only to keep surviving is to wait for the government to ratchet up payments once again.
That is why there is a petition on Change.org titled, "$2000/month to every American #moneyforthepeople #covid19" that has nearly 2.9 million signatures.
Started by a Denver restaurant owner named Stephanie Bonin, the petition calls on Congress to "support families with a $2,000 payment for adults and a $1,000 payment for kids immediately, and continuing regular checks for the duration of the crisis."
Some people would argue that the crisis has already ended, but not Bonin. While she originally started the petition at the beginning of the pandemic, she is still asking Congress to provide monthly checks as the country tries to return to normal.
"We are almost up to 3 million people on this petition calling for ongoing relief checks!" she wrote in a Sept. 15 update to the petition.
"As I wrote before, the child checks that most families are now getting is part of this ongoing relief. But, they are ending soon and the fight is now. Sign this petition calling on Congress to extend the monthly checks beyond December."
The checks she is referring to are a series of six payments called the Child Tax Credit, CBS reported. They were included as part of the American Rescue Plan, and eligible families will receive as much as $1,800 each through the series of payments.
What started as "two weeks to slow the spread" has now entered the 18th month of payments, restrictions and requirements. And it won't stop there, at least not if the Democrats have anything to say about it.
On March 30, 21 Senate Democrats wrote a letter asking Biden to issue monthly payments like the ones Bonin calls for in her petition.
"We urge you to include recurring direct payments and automatic unemployment insurance extensions tied to economic conditions in your Build Back Better long-term economic plan," the letter said.
"While we are pleased that the American Rescue Plan included a one-time direct payment and an extension of federal unemployment insurance programs, a single direct payment will not last long for most families, and we are worried about the cliff facing unemployed workers when the unemployment insurance extensions expire on September 6."
Monthly payments did not happen before Sept. 6, but that doesn't mean Democrats are not still fighting for them. Just this Tuesday, Democratic Mayor Lori Lightfoot of Chicago called for $500 monthly payments to "hard-hit, low-income households in need of additional economic stability," the Washington Examiner reported.
Anyone who truly believes these radical Democrats will stop trying to control Americans' lives when COVID-19 fades away is not paying attention. It wasn't true 18 months ago, and it isn't true now.
Many Democrats want people to look to them for basic necessities because that gives them more power. The basic goal of the Democratic Party is to expand the federal government, and nothing does that more effectively than convincing people the government is their only life source.
Monthly payments like the ones Bonin calls for would destroy her business and thousands of others like it. But she is operating under the misguided notion that these payments would somehow save her business.
Many leftist Democrats want to mislead people into trusting the government for everything. That may sound like a conspiracy theory, but the more they push extended relief payments despite the damages they are causing, the more it looks like the only logical explanation.